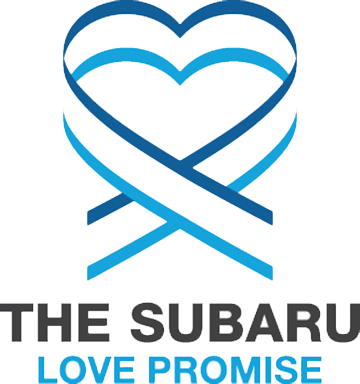 What is the Subaru Love Promise?
Subaru and our retailers believe in making the world a better place and the Subaru Love Promise is our vision of respecting all people. This is our commitment to show love and respect to our customers and to work to make a positive impact in the world.
How is Ocala Subaru dedicated locally to the Love Promise?
We are committed to help in the community. We will participate in all charity events for children's health, heart disease, homeless community, schools, environment, and all animal protection.
Marion County humane society , spca of Marion County, Vocal
Marion County recycle, Marion County FFA, Friends of Silver Springs State Park,
Osceola Middle School, Vanguard High School
Domestic Violence/sexual Assault Center (for Women And Children), INTERFAITH EMERGENCY SERVICES SHELTER, E D Croskey Recreation Center
Curesearch for childhood cancer, Marion CPR, UF Health Shands Cancer Hospital
Love Promise Stories from Ocala Subaru
Subaru and Ocala Subaru believe in making a positive impact on the communities in which we live and work. We uphold that belief through our Love Promise Community Commitment. Every month, we select inspiring stories from customers and partners from around our area who strive to support our collective commitment and feature them here
HSMC Love Promise Story - Austin B
The Humane Society of Marion County, partnered with the Ocala Subaru, has been able to find many homes for animals over the years. Our partnership with Subaru has, however, not only helped us find great homes for dogs and cats, but has also helped us fund projects and medical treatments for the animals in our care. This year, in the month of October, we sent home over 100 animals with the assistance of Subaru. With numbers like these, we can make an enormous impact in the community. Thank you, Ocala Subaru, for your support and dedication to the Humane Society of Marion County. - Austin Burnett and the Homeless pets of The Humane Society Of Marion County.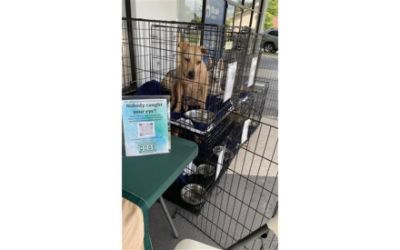 ---
Puzzle - Mary W
Our medical staff arrived at the Humane Society of Marion County, Inc. at 5:20 AM. It was 32 degrees, frost on the ground, and freezing. Upon arrival Lyn, discovered an abandoned crate with a black plastic bag on top of it. Inside this crate was a scared, frail, freezing German Shepherd. It was one of the most heartbreaking scenes our staff had encountered. Lyn rushed her in and immediately began warming her up. There was an odor coming from this precious life, one all too familiar. The smell of necrotic tissue. Sadly, upon examination, the staff found where this odor was coming from. It was caused by a deeply embedded chain that was around her neck. It was cutting deep into the tissue and into the muscle. Missing her jugular artery by mere millimeters. Dr. Albano and our medical staff worked hours desperately trying to remove the collar, removing the matted hair and necrotic tissue, treating the severely infected wound, providing pain meds, IV fluids, and antibiotics. They carefully wrapped her and carried her back to allow her to rest and began her recovery. Meet "Puzzle". Sadly she is a victim of animal cruelty that is far to frequent in our community. The HSMC will not stand by and allow such cruelty. We will fit the pieces of this puzzle together. We desperately need your help! PLEASE help Puzzle and the HSMC. Puzzle's recovery will be long and painful. It will require dressing changes twice a day, wound care and debridement, medications, and 24-hour care. PLEASE, we need your help to put an end to the needless suffering of precious lives like Puzzle! Be her voice, take a stand against animal cruelty, share her story, and donate to help cover her medical care. Thank you to Ocala Subaru for your generous support and donation to our cause. The $3,000 donation allowed to care for Puzzle and many more animals brought to us in desperate medical need. We could not survive and accomplish our mission. The mission of the Humane Society of Marion County is to prevent the cruelty, suffering, and overpopulation of animals. We are a 501C3 not for profit charity that relies on the generous support of donors and our community. She has since undergone three surgical procedures, daily dressing changes, wound debridement, and antibiotics. Her wounds are healing amazingly well and she is expected to make a full recovery. Puzzle is very sweet, loving and energetic. She has won the hearts of so many. We are excited to see her progress so quickly and look forward to the day she will be ready for her fur ever loving family. On behalf of Puzzle and our staff at the HSMC, we thank you for all your prayers and support. The 2018 Subaru Share the Love Event donation and prior three years totaling over $13,000 allows us to provide urgent medical care for animals like Puzzle, Tarragon, Thomas and Leo - saving lives, making tomorrow possible four paws at a time.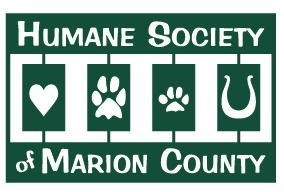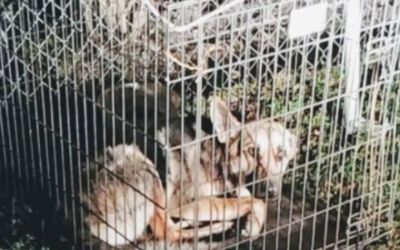 ---
LLS & Ocala Subaru - David W
Ocala Subaru met us at Florida Cancer Specialists for the blanket delivery. We were greeted with smiles from the staff at FCS. The patients were so excited to receive their blanket and notes of inspiration. Ocala Subaru, LLS and the entire staff at Florida Cancer Specialists were humbled by the experience. Together we are all bringing light to the darkness of cancer!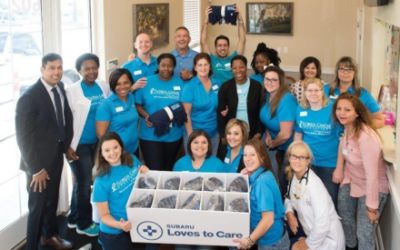 ---
Subaru Loves the Earth - E-Waste Event - Danielle S
We would like to thank our customers for participating in our E Waste Recycling event during the month of April. With your help, we were able to prevent 2,090 lbs of carbon emissions from polluting the atmosphere. This is equivalent to saving 81 trees, 356 gallons of gasoline, 3,030 plastic bottles, and 13,936 aluminum cans. Thank you for helping strengthen the Subaru Love Promise!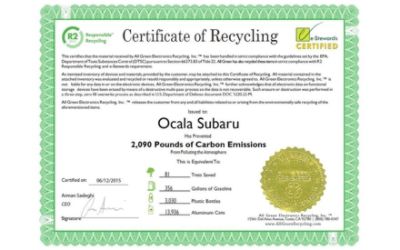 ---
April 1-30, 2015 E-Waste Recycling Event - Molly M
Throughout the month of April, we are hosting an E-Waste Recycling Event in our store to collect unwanted electronics. We've arranged to work with a company who will responsibly collect, re-purpose, and recycle your electronic waste. Help us protect our environment. Just show up with your E-Waste and we'll do the rest! The first 50 customers who contribute will receive a complimentary environmental badge of ownership. We will accept: LCD Monitors, Cell Phones, Laptops, Tablets, CRTs up to 40", Video Games/Consoles, Fax Machines, DVD/VCR Players, Printers, Computer Peripherals, Switches/Routers, Cords and Wires.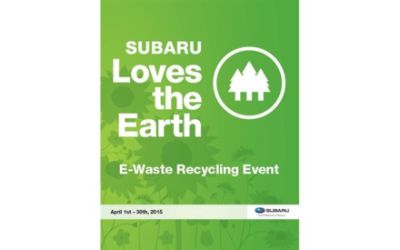 ---